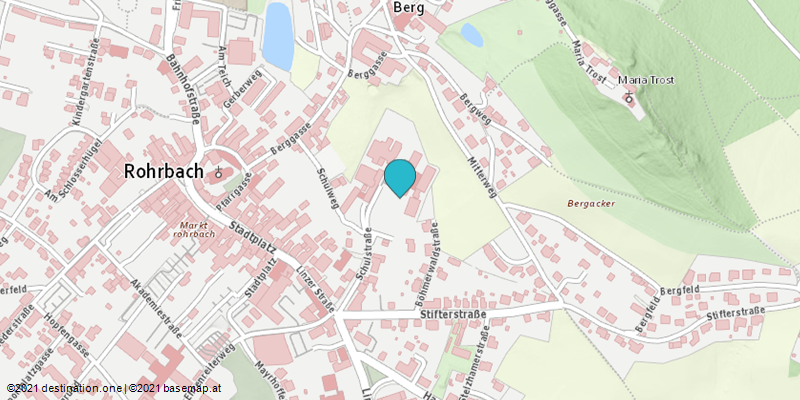 Berufsschule Rohrbach
Special features
Suitable for groups
Directly downtown
The school vocational school is during the holidays for groups available. Is particularly popular for training camp, as the nearby sports complex all claims. Each year in the first 2 weeks vacation in July, a sports camp for children aged 8-15 years. All participants can make a sporting focus and make a creative part. To choose from: football, baseball, volleyball and computer training, creative shapes and painting works, film & video, and also mountain biking, outdoor sports. Not too short, a lot of games, fun and adventure. Full board Sun-Fri 199 euros,
Contact
Legal contact information
Berufsschule Rohrbach
Wolfgang Falkner
Schulstraße 7
AT-4150 Rohrbach
Wolfgang.Falkner@ooe.gv.at
http://www.bs-rohrbach.ac.at/home.html


Arrival
Accessibility / arrival
Highway Westautobahn - Linz - B 127
via München - Landshut - A92 - Deggendorf - Passau A3 - exit
north via Wegscheid
via Nürnberg - Regensburg A3 - Passau - exit north via Wegscheid
Parking
Parking space: 1
Bus parking space: 1
Travelling by public transport
Route planner for independent travellers
Prices
Doubleroom: From € 15,00 (per person/Night)
General price information:
Our rooms are rented only to groups of 20 people!
Sports weeks all inclusive, small group training, detailed info at Sigi Öller, Tel. +43 (0) 7216 6242 abends
www.erimacamp.gnx.at
Unterkünfte