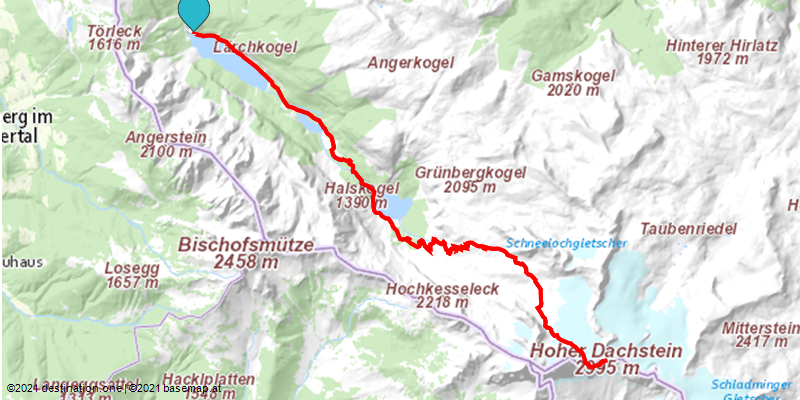 Tour to the Top of the Dachstein
Special features
Glacier region
Multi-day tour
Possible accommodation
Board possible
Tour and route information
Starting place: 4824 Gosau
Starting point: lake Gosau
Destination: 4824 Gosau
Destination: Dachstein top
Length: 13,4 km
Altitude difference (uphill): 2257m
Altitude difference (downhill): 292m
Lowest point: 936m
Highest point: 2934m
Paths covering:
Gravel
Unfixed
Secured trail
Hiking trail
Snow
This two-days-hinking-tour to the top of the Dachstein pass the lake Gosau and the hut Adamek. After an overnight stay at the hut Adamek, you reach the glacier of the Dachstein.


The Dachstein is the highest mountain in the Salzkammergut and Upper Austria. It is the only mountain of (almost) 3000 meters in the easter Alps region. Its ermine flows down in eight glaciers on its flanks and lights over a thousand other peaks. The Dachstein, in the strictest sense of the word, is the crown of all that this 840 square-kilometre Dachstein Plateau has to offer the enthusiastic mountaineer. A good head for heights, sure-footedness and mountaineering experience are prerequisites for conquering peaks. The inexperienced should definitely entrust themselves to a guide.
The Dachstein summit, of course, is also reached after an overnight stay at the Adamekhütte and a glacier crossing. Please, only with a guide!
Experience a 360° panorama tour through Gosau valley...
Mountain rescue: 140
Wanderweg
Starting place: Gosau
Metres of altitude: 2257m