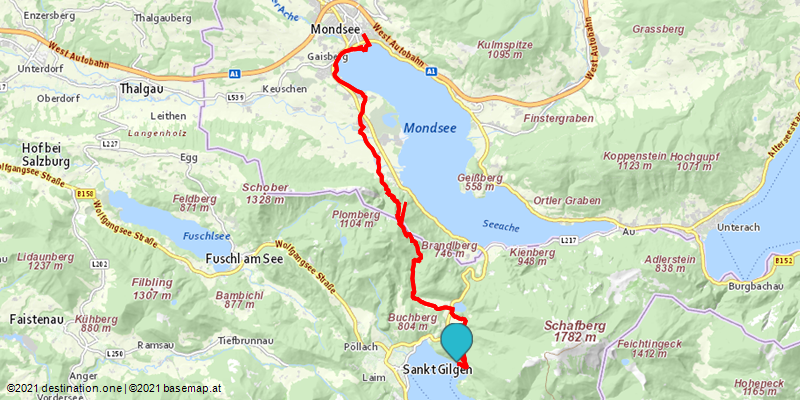 4 Mountain 3 Lakes - Stage 3: Schafberg – Mondsee
Special features
Multi-day tour
All weather
Tour and route information
Starting place: 5340 St. Gilgen
Starting point: Fürberg
Destination: 5310 Mondsee am Mondsee
Destination: Mondsee
Length: 15 km
Altitude difference (uphill): 459m
Altitude difference (downhill): 525m
Lowest point: 480m
Highest point: 952m
Panoramic view:
Some Views
Paths covering:
Asphalt
Gravel
Secured trail
Hiking trail
This is one of the stages of the Long Distance Hike Fuschlsee, Wolfgangsee and Mondsee. The route leads from Fürberg on Lake Wolfgang to the centre of the resort of Mondsee. If required we offer you luggage transportation i.e. hiking without baggage.



This stage of the Long Distance Hike Fuschlsee, Wolfgangsee and Mondsee starts at the boat jetty in Fürberg. From here you hike uphill to Winkl where you pass the Europa Monastry Gut Aich. Along the edge of the woods you reach the Schloss Hüttenstein and the Krotten Lake, one of 76 lakes in the Salzkammergut Lake District.

We cross the road to Gasthof Batzenhäusl (the last place for refreshment for 3 hours) and walk through the Zeppenezau valley of green meadows. At the end of the valley there is a climb to the Obenauer pasture ( not farmed).

Almost at the highest point of the pasture to the right, next to the path, there is a fresh water spring under a tree. We continue and arrive at the steepest, but shortest climb, of today´s hike. The climb leads us through the wood to a cross-road in the middle of the woods. Turn left here, and follow the woodland path towards the Almkogel which rises slowly. After about 500m the woodland path becomes stoney. Shortly you will reach an exposed point which gives you fantastic views from Mondsee to the Attersee. It is now just a few metres to the half-way point of the tour, the Almkogel, the highest peak of today´s tour. Enjoy the view across Lake Mondsee to Lake Irrsee and into the Salzburg Lower Alps before you begin your descent.

The descent from the Almkogel peak leads in a twisting path down the the Klausbach stream. Cross over and stop shortly at the Thelka Chapel for a moments pause. After a few hundred metres you reach the Gasthof Drachenwand where you can retank your energy,
The tour continues along a fairly traffic-free side road through the area of Schwarzindien on Lake Mondsee and further along the lake shore to the end of the tour in the resort of Mondsee.

Opening hours
This stage can be hiked all year long except at snowy conditions. Stage can be extremly dangerous during winter when there is a lot of snow.
My recommendations
Wanderweg
Starting place: St. Gilgen