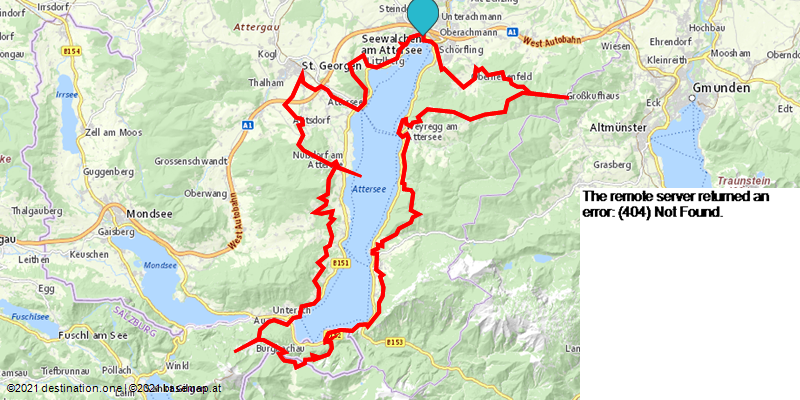 Long-distance trail Attersee-Attergau
Special features
Tour and route information
Starting place: 4863 Seewalchen am Attersee
Destination: 4863 Seewalchen am Attersee
Length: 94,7 km
Altitude difference (uphill): 3503m
Altitude difference (downhill): 3507m
Lowest point: 469m
Highest point: 1031m
Panoramic view:
Great panorama
Paths covering:
Asphalt
Gravel
Hiking trail
"You`ve not really been there until your`ve set foot there", Johann Wolfgang von Goethe
It doesn't matter where you start or conclude your roughly 90 km tour around Lake Attersee and through the Attergau region – the journey is the reward!
You'll be hiking 'up, down and around' ('aufi ... owi ... umi' in local dialect) in four (or five) stages. You will wander through rolling hills, forests suffused with light, well-groomed endless meadows, cultivated landscapes in the Attersee-Traunsee Natural Park, catching countless breathtaking views over Lake Attersee glinting in the sunlight. Walk at your own pace, step by step, and let your mind wander. Take a break to watch the appeasing alpacas, observe the busy bees or let your gaze wander over the scenery at the 'Kronberg Platzl' viewpoint.
As far back as in the prehistoric times of the pile dwellers, the region around Lake Attersee was a special place to live in. Much later, Gustav Klimt found inspiration for his artwork here. The region also has a long tradition in salt and glass production. If your feet get tired and long for a break, get on a boat or on the train and effortlessly enjoy such a well-deserved shortcut.
To keep the spirits high on a long hike, treat yourself to a glass of traditionally brewed beer, culinary treats produced in the region or even an invigorating shot of local Schnaps as a reward for your efforts.
Johann Wolfgang von Goethe already said that you've only really got to know a place if you walked there - let the long-distance trail Attersee-Attergau be your source of inspiration and joie de vivre.
Once you have reached your destination you will be missing one thing for sure - the way there!
, said the Austrian writer Marie von Ebner Eschenbach.
For a description of the
four stages
go to the page of the long-distance trail or of connected tours. You can start your hike from any village around Lake Attersee or in the Attergau region. Shortcuts of all stages are possible on boat, by train or water taxi. And of course you can skip the loops. We will be happy to assist you in the planning of your tour.
Wanderweg
Starting place: Seewalchen am Attersee
Metres of altitude: 3503m